Header of present HulstArt website is an early work by Rudy Firlefyn. Female figure in foetus position (photo: HulstArt, © Rudy Firlefyn).
Header van huidige HulstArt website is een vroeg werk van Rudy Firlefyn. Vrouwelijk figuur in foetus positie (foto: HulstArt, © Rudy Firlefyn).
Work by Sytze Apers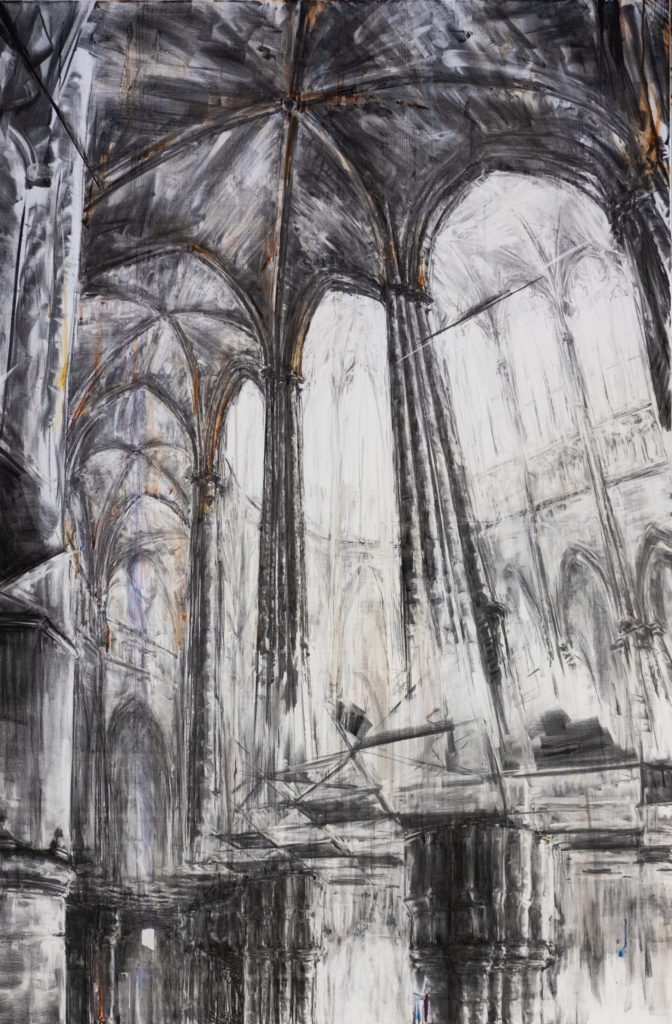 From nine July till August the fourth Sytze Apers exposes in 's Landshuis.
After studies in architecture, fashion and painting (respectively in Delft, Antwerpen and Gent), and various wanderings through Europe visiting cathedrals and a stay as 'artist in residence' in Brive-la-Gaillarde, Sytze Apers returns to his place of birth (presently living and working in Antwerpen) for a solo-exposition. Drawings and photographs he blends together for his compositions of his surrealistic church interiors. In 's Landshuis Sytze Apers exposes the drawings and paintings (mixed media) he created in the last four years.
Van 9 juli tot en met 4 augustus exposeert Sytze Apers in 's Landshuis.

Na studies bouwkunde, mode en schilderkunst (in achtereenvolgens Delft, Antwerpen en Gent), omzwervingen langs Europese kathedralen en een residentie in het afgelegen Brive-la-Gaillarde, keert Sytze Apers (tegenwoordig woonachtig in Antwerpen) terug naar zijn geboorteplaats Hulst voor een solotentoonstelling. Schetsen en foto's voegt hij samen tot meeslepende composities van onwerkelijke kerkinterieurs. In 's Landshuis toont Sytze Apers werken in gemengde teken- en schildertechnieken die hij in de afgelopen vier jaar gemaakt heeft.
Expositions
From thursday the ninth of July the two preceding artist are exposing in the three exposition rooms inside 's Landshuis and Rolf Mulder exposes in the sculpture garden.
Vanaf donderdag 9 juli exposeren de voorgaande twee kunstenaars in de drie expositieruimtes van 's Landhuis en Rolf Mulder exposeert in de beeldentuin.
Summer event
Friday evening 31 July Summer event from 20h00 in the sculpture garden of 's Landshuis
Open podium for creative performers, the stage affords you your moment. You are invited to lecture from own work, to sing, to dance, to stand-up, to orate, make music and to present your videos, the stage is there for you
The side entrance, recognisable by its two green doors located on the Frans van Waesberghestraat, is opened this evening
Vrijdagavond 31 juli Zomerevent vanaf 20h00 in de beeldentuin van 's Landshuis
Open podium voor creatieve performers, het podium gunt u, uw moment. Het staat u vrij voor te dragen uit eigen werk, te zingen, te dansen, te 'stand-up'-en, te oreren, muziek te maken en uw video's te presenteren, het podium is er voor u
De zij-ingang, herkenbaar aan de twee groene deuren aan de Frans van Waesberghestraat, is deze avond geopend.
Verplichte aanmelding voor zowel performer als bezoeker via: werkgroephulstart@gmail.com
Work by Rudy Firlefyn
Rudy Firlefyn entered the creative art world two decades ago. His structural and space encompassing pieces knows diverse origins, such as a background in chemistry and oriental lifestyles (different kinds of mediation, for example).
Rudy Firlefyn is in search of and for meaning, for example by his 'Reversed Art' period pieces Rudy Firlefyn tries to respond on and to and even tries to provoke responses by his works on modern day major questions, such as pollution of air and water, the perfect body ideal, the health craze.
Polygons figure in diverse works such as the 'Dream catcher' which knows several exemplars amongst which a hanging pendule subtitled 'Skywalker' construed from cranes and some additional materials.
Rudy Firlefyn maakte zijn entree in de kunstwereld twee decennia geleden. Zijn structurele en ruimte omspannende werken kennen een diverse origine, zoals een achtergrond in chemie en orientaalse levensstijlen (verschillende mediatiemethoden, bijvoorbeeld).
Rudy Firlefyn is op zoek naar mening middels zijn 'Reversed Art' periode werken tracht Rudy Firlefyn te reageren op en hij tracht zelfs reacties to ontlokken middels deze werken op hedentijdse majeure vragen, zoals lucht- en waterverontreiniging, het perfecte lichaamsideaal, en de gezondheidsrage.
Polygonen figureren in diverse werken zoals de 'Dream catcher' waarvan er meerdere exemplaren zijn waaronder een hangende pendule met als ondertitel 'Skywalker' gecontrueerd uit wandelstokken en andere materialen.
Opening hours
Nota bene, aangepaste openingstijden
Maandag t/m zaterdag: 11-12h30 & 13h-15h30
Dinsdag: Gesloten
Zondag: 14h-15h30
HulstArt
HulstArt is located in 's Landshuis, officially registered as a monument, and these days HulstArt is mandated by the municipal with the task organise expositions in the three available expositions rooms and the sculpture garden.
Workgroup HulstArt consists of Randell Sarneel, praeses, Paul Cornelis, secretary & exchequer, Wendy Pardon and Joyce Raats
HulstArt is gelocaliseerd in 's Landshuis, officieel geregistreerd als monument, en dezer dagen belast met de gemeentelijke taak organiseer exposities in de drie aanwezige expositiezalen en de huidige beeldentuin
Werkgroep HulstArt is samengesteld uit Randell Sarneel, voorzitter, Paul Cornelis secretaris & penningmeester, Wendy Pardon en Joyce Raats
Work by Sytze Apers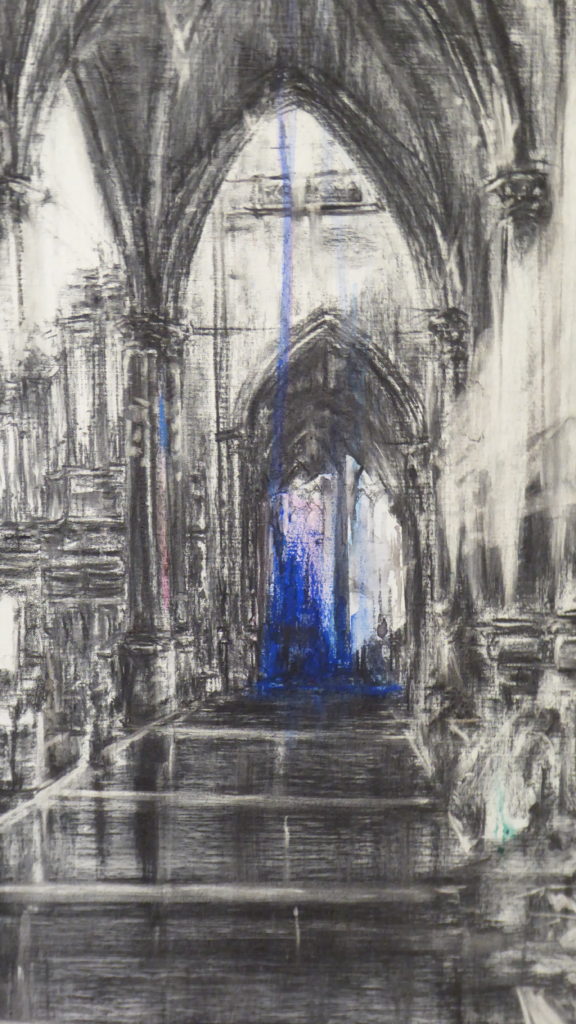 Sytze Apers produced his drawings and paintings during his period as 'artist in residence' in Brive-la-Gaillarde in France. Gothic churches and cathedrals and in particular their interiors play a pivotal role in his work. Sytze Apers' atmospheric charged church interiors, he creates in accordance to the way light enters, the way the light enters steers his perspective and our perception.
Upon first impression the monochrome pallet dominates but upon closer inspection his works contains colour, Sytze Apers uses colour and uses it sporadically.
Sytze Apers zijn tekeningen en aquarellen produceerde hij als 'artist in residence' in Brive-la-Gaillarde in Frankrijk. Gotische baselieken en cathedralen en in het bijzonder hun interieurs staan centraal in zijn werken. Sytze Apers atmosferische geladen kerkinterieurs creëert hij naar aanleiding van de lichtinval, de lichtinval stuurt zijn perspectief en onze blik.
Bij eerste aanblik overheerst het monochrome pallet edoch bij nadere inspectie bevat zijn werk kleur, Sytze Apers gebruikt kleur en gebruikt het sporadisch.
Location & contact
Locatie
's Landshuis, Steenstraat 37, Hulst
Contact
Paul Cornelis, secretaris werkgroep HulstArt
Wilt u exposeren?
Zoekt u atelierruimte?
Interesse in participeren?
Leren inrichten van exposities?
Suggesties, tips en opmerkingen zijn meer dan welkom
Work by Rolf Mulder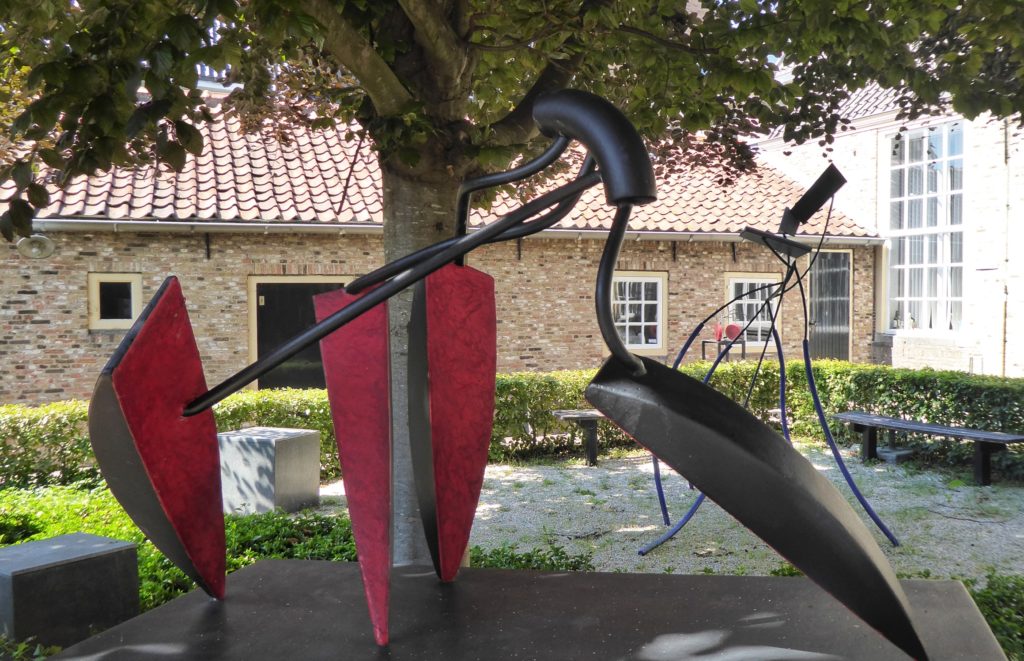 Rolf Mulder his works are three-dimensional and industrial materials are his language, his language to express. The works are labelled with cognitive stimulating titles which Rolf Mulder freely associates in accordance with his works.
Spinning wheel, Watch my moves, Maybe this?, The big applause, and Eastern parade are titles of Rolf Mulder's works which are exposed by HulstArt in the sculpture garden of 's Landshuis
Rolf Mulder zijn werk is driedimensioneel en industriële materialen zijn, zijn taal, zijn expressieve taal. De werken zijn voorzien van cognitief stimulerende titels die Rolf Mulder vrij associeert naar aanleiding van zijn werk.
Spinning wheel, Watch my moves, Maybe this?, The big applause en Eastern parade zijn titels van de werken van Rolf Mulder geëxposeerd door HulstArt in de beeldentuin van 's Landshuis
Coming up
Verwachte agenda aanstaande exposanten:
06 augustus t/m 01 september: Eliza & Twan Baetens (photography)
03 september t/m 27 oktober: William Vestraeten
Installation of overview exposition by Rudy Firlefyn
These days Rudy Firlefyn is busy installing his overview collection in 's Landshuis. Due to shortage of exposition space this overview exposition won't be totally complete.
Deze dagen is Rudy Firlefyn bezig met het installeren van zijn overzichtstentoonstelling in 's Landshuis. Door ruimtegebrek zal deze overview expositie niet zijn gehele oeuvre omvangen.
HulstArt website is onder continue ontwikkeling